The world's first offshore charging points for electric vessels will be installed on the Lynn and Inner Dowsing wind farms off the UK around late summer, according to the UK's Department for Transport.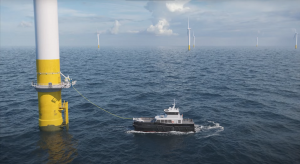 A UK-based firm named MJR Power and Automation is soon expected to install new charging points for a range of electric crew transfer vessels (CTVs) on Lynn and Inner Dowsing offshore wind farms. The company was reportedly awarded another round of significant government funding to develop its advanced technology to connect and charge Platform Supply Vessels (PSVs), Service Operation Vessels (SOVs), and similar vessels.
MJR had successfully secured the first round of funding following the Clean Maritime Demonstration Competition, which the UK's Department for Transport funds. It will be delivered in collaboration with Innovate UK in 2021 (September).
This empowered the firm to fast-track the factory testing and development of an offshore charging electrical vessel facility that is most appropriate for CTVs, which is now in the final stages of testing with the deployment scheduled imminently.
Now, with the additional funding from the Clean Maritime Demonstration Competition Round 2 (CMDC2), which was launched in May this year, MJR is expected to accelerate the prototyping and development of its system to permit PSVs, SOVs, and other vessel types to link to offshore wind turbines in the field.
As part of the following developmental phase, the firm will successfully lead a consortium of partners to deliver the project in the coming eight months.
At the moment, the massive shift to 100% electric and hybrid electric power – for several vessels – is being hampered by a lack of available and adequate infrastructure for recharging when offshore, with shore-side charging facilities and shore power being limited or almost non-existent, the company said in a press release on 6 October.
Per a marine electrical engineering specialist, the vessels working in offshore operations, well-equipped by Marine Gasoil, are responsible for producing about 285,000 tonnes of CO2 emissions annually in the UK itself.
The ability to charge in the field and use renewable energy is significantly expected to expedite the complete adoption of advanced, emission-free propulsion systems that will be a significant asset for the decarbonization of the UK and the worldwide maritime sector, MJR said.
Source: Offshore Wind