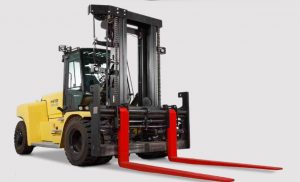 Hyster aims to offer electric container handlers powered by integrated lithium-ion batteries with a choice of charging options and for operations with higher power consumptions and extremely heavy duty cycles, they can be equipped with hydrogen fuel cells. Hydrogen and grid power provide complementary power solutions for operations. Where the requirements to power a fleet of electric Big Trucks are likely to exceed power capabilities of the grid, hydrogen may provide operations with readily available energy without a requirement for a high capacity electric charging infrastructure.
After 90 years in the industry, Hyster understands the obstacles you're facing. Most importantly, we've spent those years thinking ahead – anticipating challenges and developing the solutions to meet them. One of the most impressive is electrifying higher capacity lift trucks and container handlers that are better for the environment and your business.
Hyster® electric lift trucks power your possibilities by helping to reduce emissions, lower fuel consumption and maintenance costs while boosting performance and efficiency for intensive industries such as ports, lumber, agriculture, steel and more. Their exceptional traction power, acceleration, and visibility will make you feel like you're driving a diesel. It's a difference you'll see not only on job sites but also on your spreadsheets. When you look at the total cost of ownership and long-term value of our big electric trucks, adding clean power to your fleet has never been easier or made more sense.
Source: hyster.com