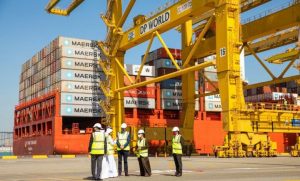 Dubai-based terminal operator DP World is joining forces with Danish liner giant A.P. Moller – Maersk to boost operational efficiencies and deliver decarbonisation solutions at Jebel Ali port in the United Arab Emirates.
The long-term strategic partnership will support Maersk's customers by implementing new processes to improve quayside productivity, which should result in faster gate turnaround times at the port and reduced bunker fuel consumption.
Alongside these improvements, access to visibility tools that provide real-time information will be provided, allowing better supply chain planning and ultimately carbon emissions reduction, DP World said. Maersk will also deploy two of its solutions for customers moving their cargo through Jebel Ali – Maersk Accelerate, a fast-tracking service through priority cargo handling, and Maersk Flex Hub, a cargo storage solution.
Shahab Al Jassmi, vice president – Ports & Terminals, DP World UAE, said: "Jebel Ali's success has been built on progressive collaboration with partners such as Maersk, enabling us to combine our operational efficiencies and expertise to ensure we deliver the best end-to-end solutions to our customers. This synergy has allowed us to develop a successful ecosystem at Jebel Ali that continues to evolve and adapt to the dynamic markets we operate in."
The two heavyweights share a common goal of lowering carbon emissions. Maersk aims to reach net zero emissions by 2040 across the entire business with new technologies, new vessels and green fuels. In January last year, DP World formed a strategic alliance with the Maersk Mc-Kinney Møller Center for Zero Carbon Shipping, and in November, its chairman and CEO, Sultan Ahmed Bin Sulayem, announced plans to invest up to $500m to reduce CO2 emissions from its operations by nearly 700,000 tonnes over the next five years – a 20% reduction in carbon emissions from 2021 levels.
Here you can see the position of Dubai in Persian Gulf: