lectric power is currently flexing muscles as the largest electric ferry in the world – boasts the capacity of carrying 2,100 guests and their vehicles – is all prepared for delivery in the next two years. Incat Tasmania, an Australia-based manufacturer of ferries termed high-speed craft (HSC), is now geared up to deliver the 148-meter Utility Ro-Pax ferry. This will be the largest electric ferry in the world.
Designed by a firm named Revolution Design and constructed by Incat, the unique ferry is operated by two electric motors (5 – 9.6 MW) placed beneath the vessel's hull. The vessel can be loaded with 226 vehicles at up to 25 knots for a range of 100 nm.
Buquebus operates many Incat vessels, especially in South America. Buquebus will use the ferry to transport passengers between Uruguay and Argentina.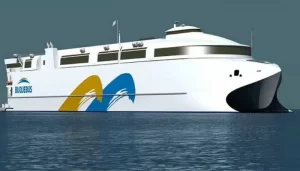 The vessel was intended to be operated by LNG. Still getting second thoughts, Buquebus and Incat agreed it would be best for the environment and customers to opt for zero-emission electricity.
Even though swapping for electric propulsion needs a heavy redesign, Clifford mentions that the company would replace almost 500 tons of equipment and fuel tanks with 400 tons of batteries to maintain a lightweight.
Shipping reportedly contributes a high amount of carbon dioxide every year, accounting for almost 3% globally (European marine traffic reportedly accounts for almost 12%). The International Maritime Organization aims to reduce CO2 emissions for new vessels built by 30% by 2025 while lowering by 40% the average fleet emissions by the year 2030.
Electric ferries and vessels can play a crucial role in such a big transition.
Zero-emission ferries would be an excellent place to begin electrifying as they typically run the same channels, making it easy to place charging infrastructure. Not only are electric ferries going to help save the environment, but they'll also save the operators a lot of money.
The first all-electric ferry in Norway reportedly claimed that it lowered the costs by 80%. Besides, Ellen, the self-proclaimed world's greatest electric ferry (before Incat's) functioning in Southern Denmark, helps save up to 2,000 tons of CO2 emissions each year.
Reference: Electrek, Business News