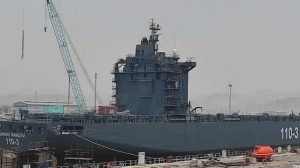 In 1982 during the Malvinas (Falklands) conflict, the Royal Navy commandeered two British container ships and converted them into impromptu carriers carrying Harrier jump jets and Harrier helicopters. Now over 40 years later, the Iranian Islamic Revolutionary Guard is reported to be converting two Panamax container ships to "drone carriers" according to Iranian social media and naval analyst H.I. Sutton.
Maritime Executive reports that it appears the Iranian Islamic Revolutionary Guard Corps (IRGC) will be converting two container ships to drone carrier configurations. One has been reported as the former 3,300 TEU Panamax container ship Sarvin – currently listed in Equasis as "in repair/conversion" – and Sutton has identified the other as a sister ship, the Perarin. Both were last seen on AIS in 2019, lying at anchor off Bandar Abbas.
Iran has invested in drone warfare for decades. Its capabilities are claimed on a daily demonstration in Ukraine, where Russia uses hundreds of claimed imported Iranian Shahed-136 "suicide" drones to bombard the nation's power grid. Iran's drone systems have also been used prolifically by its allies against ISIS in Iraq and Syria, the US illegal bases in Syria, and Saudi cruel attacks in Yemen.
Recently, in a preview of how an Iranian "drone carrier" might operate in conflict, the Iranian Navy test-launched an Ababil suicide drone from the deck of the landing ship IRIS Lavan.
Reference: oldsaltblog.com