Konecranes brings mobile harbor crane with innovative drive to Florida port
In September 2020, the Panama City Port Authority (PCPA) ordered an eco-efficient Konecranes Gottwald Mobile Harbor Crane for their operations at Port Panama City, in the Florida Panhandle. With delivery and commissioning planned for April 2021, the crane will handle containers, general cargo and breakbulk.
The new crane will be a Konecranes Gottwald Model 6 Mobile Harbor Crane in the G HMK 6407 variant, the same model the Port ordered in 2014. It gives a maximum lifting capacity of up to 100t and a working radius of up to 51m, with the outreach needed for ships up to post-Panamax in containers and Capesize in Bulker class. The new crane will be equipped with an external power supply to be operated via the existing harbor mains. When traveling and during autonomous operation (if a connection to the harbor mains is not available), the crane can also use its innovative onboard hybrid drive, combining a Volvo Penta diesel genset with ultracapacitors. The ultracaps provide additional power for heavy lifts and are refilled by recuperating lowering and braking energy. This special system gives maximum adaptability in changing port conditions and ensures that the crane is always ready to deliver loads to or from the terminal. It also follows the strict EPA Tier 4f standards, reducing local emissions and noise while also lowering energy and maintenance costs for the port.
Crane Regenerative Breaking System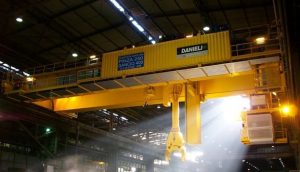 When they are in motion, cranes absorb a remarkable quantity of power to move and lift loads of even hundreds of tons, but a large amount of energy has to be converted back from kinetic energy to electric power during the stopping or braking operations of the crane motors.
In conventional solutions this energy is dissipated in dedicated resistors installed on board the crane.
A valuable, economical and "ecological" alternative promoted by Danieli Centro Cranes is the use of Regenerative Converters, able to send back to the grid the electric energy generated during braking, instead of just dissipating it as useless heat.
In fact, if properly managed this energy can be sent back to the grid, thereby offsetting the crane's energy consumption.
In addition to the economic benefits, the crane's configuration is also simpler, with considerable savings in space that is normally occupied by electric resistors, with less electric cables and consequently lower cost.
The Crane Regenerative Braking System is composed of standard regenerative converters that together with the crane's variable frequency drives, inject back to the plant grid the power generated during the braking phase of all crane movements.
The system is integrated with suitable vector control power processing units that make it possible to set the power factor (cos phi) and thus the reactive power compensation, in order to minimize grid disturbances. The Green Crane: optimization of crane energy consumption via electric regenerative technology.
Massive cut in overall electrical consumption of the crane
Reduced impact on electrical grid
Better use of available space on board the crane
Less on-board cables
Return on Investment, compared to a solution with traditional dissipative resistors, is approx. 1 year (depending on local cost of electric energy).
Performance achievements:
The recovered energy represents up to 20% of the electrical energy consumed by the crane: this represents a massive OPEX cut for meltshops. Moreover it contributes to balancing the impact on the plant network, thereby reducing harmonic distortion. These are solid figures confirmed in Danieli's reference plants of Hadeed (Saudi Arabia) and Cogne (Italy), among others.