Air Products and Mabanaft, through its subsidiary Oiltanking Deutschland, announced their intention to build Germany's first large-scale, green energy import terminal in the Port of Hamburg. This joint development agreement is an important step towards the development of a green ammonia import and distribution infrastructure in the Port of Hamburg.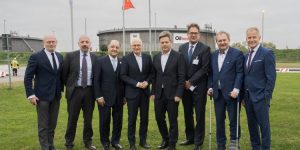 Targeted to provide hydrogen to Germany in 2026, the planned import terminal is to be located at Mabanaft's existing tank terminal in the Port. This location offers strategic access to green ammonia from large-scale green hydrogen production facilities operated by Air Products and its partners around the world. The intention is to convert the ammonia to green hydrogen via Air Products' facilities in Hamburg, before distributing it to buyers locally and across northern Germany. This plan responds to the accelerating demand for clean energy to meet climate objectives and the need to diversify energy sources.
"Together with Mabanaft, we look forward to further progressing our plans of importing needed-renewable energy into Germany, through our planned facility," said Air Products' Chairman, President and CEO Seifi Ghasemi. "
Hamburg's Senator for Economic Affairs Michael Westhagemann: "The development of an import infrastructure for green hydrogen is of extraordinary importance. This is the only way we can meet the enormous demand for green hydrogen in the future. Hamburg, with its port and its geographical and infrastructural location and connections, is predestined for this."
Jens Meier, CEO Hamburg Port Authority said: "The Port of Hamburg is committed to protecting the climate. After completing the first important milestone by signing an MoU in February 2022 with Air Products, we are happy that we take now the next important step toward building a hydrogen value chain in co-operation with our competent partners, Air Products and Mabanaft, the central element of which will be the import of green ammonia for conversion to green hydrogen. Hamburg will be one of the first ports worldwide to offer clean hydrogen import infrastructure. This import will drive the decarbonation for several applications in the harbour, as well as applications in shipping."
This announcement follows a Memorandum of Understanding that Air Products and the Hamburg Port Authority signed in February 2022. Both parties committed to accelerate production, supply chain, and consumption of renewable hydrogen in the North of Germany and Free Hanseatic State of Hamburg.
Source: safety4sea.com