Nexxiot is presenting its latest product at the Transport Logistic trade fair in Munich. Scope AI is a conversational interface into data from Nexxiot's cargo sensors on locations, status, conditions of cargo, and supply chain events like delays, and is set to facilitate contextualized decision-making.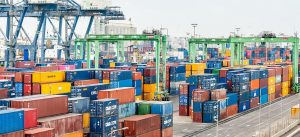 Generic image: postcardtrip/Pixabay
Zurich-based TradeTech company Nexxiot is adding Scope AI to the supply chain data generated by its sensors and gateways. According to a press release, this is a conversational interface enabling clients to make contextualized verbal requests for information about cargo status, which facilitates decision-making.
Nexxiot's Edge and Globehopper sensors are already used on ocean and rail transport containers. Based on the Internet of Things, the sensors provide information on locations, status, conditions of cargo and supply chain events like delays.
Scope AI is now set to enhance the operational efficiency of these AI-powered supply chain logistics. The new development is that Scope AI, on request, extracts and presents key insights from the billions of data points generated every month by Nexxiot's sensors on all major trade lanes between Europe, North America, and Asia. It also works with data derived from any third-party gateway, sensor or API.
The AI can answer verbal queries such as "'Show me all the containers containing electronics that are exposed to high levels of security risk right now", or "Highlight the assets for which we could have avoided demurrage costs in the last ten days".
According to Ákos Maróy, Nexxiot's Chief Data Officer, Scope AI is being launched "to offer asset intelligence and combine it with shipment intelligence in a way that's never been experienced before." The new technology will be presented at the international Transport Logistic trade fair from May 9 to 12 in Munich.