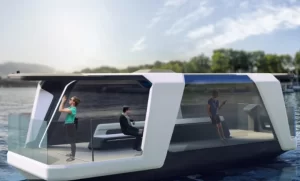 Athletes and visitors from around the world will have a glimpse of the future of waterborne mobility by crossing the Seine with a 3D printed, autonomous, electric passenger ferry. Together with partners Sequana Développement and Roboat, Holland Shipyards Group has been designated a winner in a countrywide call for projects in the field of autonomous decarbonated passenger boats.
In December 2022, Holland Shipyards Group, Sequana Développement and Roboat were designated as a winner in a national call for autonomous passenger boat projects initiated by the French inland waterway authority, Voies Navigables de France. The ferry proposed by the winning consortium will be 3D printed and, with its dimensions of 9 by 3.90 m, is the largest printed autonomous ferry ever. The ferry is characterized by a state-of-the-art design, an autonomy system, electric propulsion, and has a 3D printed hull made of recycled material. Mooring and charging will happen automatically. The ferry is to be deployed in the summer of 2024 in a key location, still under wraps, in the vicinity of the major sporting events and will enable visitors to Paris and athletes to fulfill their mobility needs in a new and environmentally friendly manner.
"The 3D print build method opens up a new exciting chapter in shipbuilding ", says Leendert Hoogendoorn, director Holland Shipyards Group".
Urban mobility challenges
Every city has to deal with urban mobility challenges and green transport over water can offer an excellent solution. By using autonomous electric ferries, you have a sustainable solution for reducing city congestion and emissions. The ferries help cities solve their growing mobility needs by making better use of the waterways.
"Autonomous ferries will create new connections over existing waterways in cities worldwide", says Ynse Deinema, CEO Roboat".
We are extremely proud of this opportunity where top-level sport and shipbuilding meet and match in quality, passion and progressive approach!
Reference: This article is shared by courtesy of Holland Shipyards group – www.hollandshipyardsgroup.com