Ship recycling, also known as ship-breaking, is the process of dismantling a ship for parts or the extraction of raw materials, chiefly scrap. As ships have a lifespan of 25 to 30 years, ship-breaking provides a sustainable way to recycle materials and reduce the demand for mined iron ore while lowering energy use in steelmaking. However, ship-breaking is labour-intensive and considered one of the world's most dangerous industries, and there are concerns about environmental and worker health and safety risks, especially in poorer countries without stringent regulations. To address these issues, international regulations such as the IMO Hong Kong Convention and the EU Ship Recycling Regulation have been developed, but ratification and enforcement remain a challenge.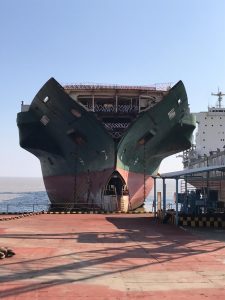 Shipowners can take proactive steps to ensure responsible recycling, such as developing responsible recycling policies and partnering with certified recycling yards. The largest ship-breaking yards are located in India, Bangladesh, China, and Pakistan, employing 225,000 workers and providing many indirect jobs. Ship-recycling is an alternative to ship-breaking, but it does not recycle any materials.
The ship-breaking industry has shifted from industrialized countries to East Asia since the mid-20th century, as labour costs rose. However, the industry is volatile, and fluctuates wildly. Tightening environmental regulations have led to a resurgence of recycling in environmentally compliant locations in developed countries, especially in former ship-building yards. The decommissioning process is entirely different in developed countries than in third-world countries, and environmental legislation plays a significant role in the price paid for a water-craft. Ship recycling at the end of its lifetime involves dismantling the ship and disposing of its components in a sustainable and safe manner. This process can involve the recovery of valuable materials and equipment, but also poses potential risks to human health and the environment.
To ensure responsible ship recycling, international regulations such as the IMO Hong Kong Convention and the EU Ship Recycling Regulation have been developed to address issues such as worker safety, pollution, and waste management. However, the ratification and enforcement of these regulations remain a challenge, particularly in countries with weaker regulatory frameworks. The IMO Hong Kong Convention is an international treaty that aims to ensure safe and environmentally sound recycling of ships. It was adopted by the International Maritime Organization (IMO) in 2009 but has yet to enter into force, as it requires ratification by a minimum of 15 states, representing 40% of the world's merchant shipping by gross tonnage. The Convention sets out specific requirements for the design, construction, operation, and preparation of ships to facilitate safe and environmentally sound recycling. It also requires ships to have an inventory of hazardous materials on board, which must be verified and properly managed during recycling. The Hong Kong Convention is considered to be a major step towards addressing the environmental and safety concerns associated with ship recycling, particularly in developing countries where most shipbreaking occurs. However, some critics argue that the Convention does not go far enough in addressing the issue of shipbreaking on the beaches, which is a major source of pollution and human rights abuses.
How to ensure ESG-compliant ship recycling
Shipowners can take proactive steps to ensure responsible recycling by developing responsible recycling policies, partnering with certified recycling yards, and engaging with stakeholders to improve industry standards. By prioritizing responsible recycling practices, shipowners can not only mitigate ESG risks but also create economic and social value for their stakeholders and the wider community.
Question: What are the ESG risks related to ship recycling?
Answer: Ship recycling poses several ESG risks, including negative environmental impacts, worker health and safety concerns, and issues related to governance. Shipowners need to consider a range of factors, such as the adequacy of downstream waste management facilities, adherence to International Labour Organization (ILO) conventions, and the potential for corruption and lack of transparency in recycling countries.
Question: What data or proof points are needed for final ESG reporting?
Answer: Final ESG reporting for ship recycling should cover a range of environmental, social, and governance considerations. On the environmental side, the reporting should detail mitigating actions taken to reduce negative environmental impacts, such as handling hazardous liquids and avoiding invasive species transfer. Social considerations should include worker health and safety practices, including minimum wage, working hours, and housing standards. With regard to governance, shipowners should identify and take suitable mitigating actions for any differences in corruption and transparency levels in recycling countries.
Prepared by MaritimEducation team.