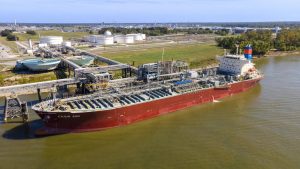 Methanex Corporation and Mitsui O.S.K. Lines (MOL) have announced that the dual-fuel vessel Cajun Sun has completed the world's first-ever net-zero voyage fueled by bio-methanol. The vessel is operated by Methanex's subsidiary Waterfront Shipping and was chartered from MOL. The voyage used a blend of ISCC-certified bio-methanol and natural gas-based methanol to achieve net-zero greenhouse gas emissions on a lifecycle basis for the 18-day trans-Atlantic trip from Geismar, Louisiana to Antwerp, Belgium. This successful voyage is a result of Methanex and MOL's collaboration to demonstrate the viability of methanol as a marine fuel with a pathway to net-zero emissions in support of shipping's energy transition.
Waterfront Shipping became an early adopter of methanol as an alternative marine fuel in 2016 when it jointly built the world's first ocean-going methanol dual-fuel tanker, named Taranaki Sun, with Methanex and MOL. Today, Waterfront Shipping operates a fleet of 19 deep-sea tankers equipped with methanol dual-fuel technology. Methanol is emerging as a promising alternative fuel that can help shipping meet its increasingly strict emissions targets. Compared to conventional marine fuel, methanol significantly reduces emissions of sulphur oxides, nitrogen oxides, and particulate matter, in addition to reducing CO2 emissions. Methanol produced from renewable sources can further reduce CO2 emissions by up to 95 percent compared to conventional marine fuels, providing a pathway to meet the International Maritime Organization's (IMO) decarbonization goals. Bio-methanol is a type of renewable methanol that is produced from biomass feedstocks, and can be blended with traditional methanol or other fuels to improve their carbon footprint.
"We're proud to bring the marine industry a tangible solution to transition towards net-zero emissions through our blended methanol product using bio-methanol produced from renewable natural gas at our facility in Geismar," said Mark Allard, Methanex's Senior Vice President, Low Carbon Solutions. "As the world's largest methanol producer, we are establishing a network of relationships with leading renewable natural gas suppliers and assessing other pathways, including carbon capture and storage and e-methanol, to provide solutions for the marine industry and other customers."
MOL acquired a 40% stake in Waterfront Shipping in early 2022 for $145 million, forming a strategic partnership to help develop the market for methanol as a lower emission marine fuel. According to classification society DNV, in 2022 there were 35 newbuild ships ordered with the fuel, primarily in the container ship sector but also in others such as heavy lift, ranking it as the second most popular alternative fuel behind liquefied natural gas.
Reference: gCaptain