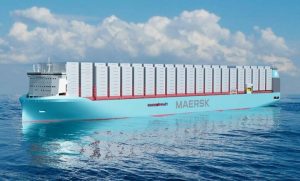 Maersk is going to own a large chunk of the global methanol supply chain if it keeps investing at its current pace.
The Danish transport firm, among the biggest investors in methanol-fuelled ships to date, has just invested in C1 Green Chemicals, a Berlin-based startup which has found a way to mass-produce green methanol at a competitive price. Using quantum-chemical simulations and lab experiments, C1 has invented a new ultra-efficient catalysis for green methanol. It enables the mass-production of high-purity green methanol using decentralised, non-fossil feedstock, low pressures, and low temperatures at any plant scale. Combined with a containerised design the C1-reactor – currently in pilot stage – makes decentralised green methanol production possible almost anywhere, the German company claims.
"With their innovative technology, it is a positive step towards decarbonising the shipping industry and our overall mission of decarbonising supply chains," Maersk stated in a release.
"Green methanol is the most promising way to drastically cut emissions from long-distance shipping at scale in the short term, and we see much traction in that space. We are really excited about C1's cutting-edge scientific approach, reinventing every production step. Such a level of innovation and attention to detail is key to success, and we believe their technology can play an important role in decarbonising hard-to-abate industries, including shipping," said Peter Votkjaer Jorgensen, partner at Maersk Growth, the Danish company's investment vehicle. Maersk has 19 methanol dual-fuelled boxships under construction and has been building a global fuel supply network over the past 18 months.
2023 is being tipped by many as the year methanol goes mainstream as shipping's alternative fuel for the 2020s. Methanol going mainstream formed a key plank of this week's Splash maritime tech 2023 deep-dive. Carl Schou, president of Wilhelmsen Ship Managment, told Splash 2023 will be the year where the demand and supply equation will solve the choice of fuel for the next generation of ships. "We are seeing an increase in traction for methanol and in my opinion, this will be the year that methanol is embraced by the wider industry, which includes shipowners, suppliers like engine-makers and tank and infrastructure in the main bunkering ports," Schou said.
Analysis from class society DNV shows methanol was the second most popular alternative fuel choice for newbuild orders last year after LNG, with 35 ships ordered, bringing the total count to 82 ships.