Container shipping heavyweight Maersk has achieved a major milestone in its efforts to reduce carbon emissions with the successful launching of its first methanol-powered feeder vessel at the Hyundai Mipo Dockyard.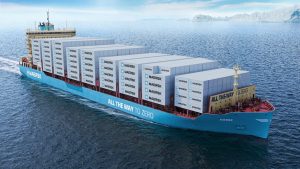 Credit: Maersk
"The launching was successfully completed at Hyundai Mipo Dockyard and the construction is continuing," Henrik Ekmann, Head of Newbuilding & Retrofit at Maersk explains.
South Korea's Hyundai Mipo Dockyard launched the feeder on April 4. The ship is the company's first carbon-neutral vessel and it will join its fleet in the summer of this year.
"Launching these mega structures takes precision and care, extensive product and design development from a large number of key suppliers and driven forward by our Procurement and Fleet Technology teams," Ekmann added.
Methanol as a path toward carbon-neutrality
The vessel is at the core of Maersk's decarbonization strategy as the company sets sights on becoming net-zero by 2040.
The ship, with a capacity of around 2,000 TEU, was ordered back in 2021. While the vessel can operate on standard VLSFO, the plan is to operate it on carbon-neutral e-methanol or sustainable bio-methanol from day one. Both of the vessel's main and auxiliary engines can operate on green methanol.
MAN Energy Solutions and Hyundai Engine and Machinery, in collaboration with Hyundai Mipo and Maersk, developed the methanol propulsion configuration for the vessel. The main engine was supplied by Hyundai Engine and Machinery, while the auxiliary engine was supplied by Himsen.
The vessel will be classed by the American Bureau of Shipping. Maersk disclosed earlier that the feeder will be 172 meters long and will sail in the network of Sealand Europe, a Maersk subsidiary, on the Baltic shipping route between Northern Europe and the Bay of Bothnia.
In addition, Maersk has partnered with REintegrate, a subsidiary of the Danish renewable energy company European Energy, to produce green fuel for its first methanol-powered containership.
Namely, the renewable energy company is building the facility and aims to produce approximately 10,000 tonnes of e-methanol for Maersk's carbon-neutral vessel.  The feeder will be followed by 18 large ocean-going vessels of 16,000-17,200 TEU capacity which are scheduled for delivery in 2024 and 2025.
Reference: offshore-energy.biz