Lisbon Cruise Port reportedly hosted the newest vessel of P&O Cruises, Arvia, for an inaugural call on 3 January 2023.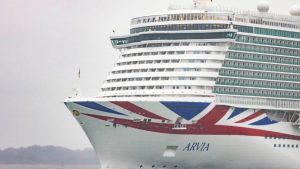 Source: cruisehive.com
Duarte Cabral, the GM of Lisbon Cruise Port, mentioned that this would be a record-breaking year, with calls surpassing the number recorded even in 2019, before COVID-19. The firm's award-winning port and terminal are ready to serve guests with exceptional health and safety protocols in place.
Lisbon Cruise Port, Global Ports Holding reportedly operated, is now expecting a record-breaking year with over 650.000 guests calling the city and an increase of 95% in turnaround guests this year.
To commemorate the occasion, Cabral reportedly presented a welcome plaque to Commander Robert Camby, who is Arvia's Captain, and present at the ceremony were the port authority, harbour master, and customs.
The Arvia is the firm's second LNG-powered vessel. It is the most advanced fuel technology in the industry until now.
Next up vessel is expected to depart on a 14-night Caribbean trip on Friday, 6 January, from England's Southampton. The Arvia will make calls in Tenerife; Philipsburg; Castries, and St Georges, Grenada, before reaching Bridgetown, Barbados, on 20 January.
References: Cruiseindustrynews.com