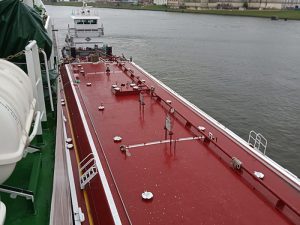 Kirby Corporation (NYSE:KEX) has carried out the first two barge-to-ship methanol bunkerings on the U.S. Gulf Coast. Two ships operated by Proman Stena Bulk, the tankers Stena Pro Marine and Stena Prosperous, were refueled with methanol via barge while discharging clean petroleum products at a terminal in the Port of Houston in the first week of April.
Stena Pro Marine was bunkered with 1,408 tonnes of methanol, and Stena Prosperous was refueled with 1,203 tonnes of methanol during the operation. Both ships were time-chartered to a global trading house at the time of the refueling.
Proman Stena Bulk is a joint venture between Stena Bulk and Proman, one of the world's largest producers of methanol — and, not surprisingly, a leading advocate of methanol as a marine fuel. It says that the ability to refuel both vessels with methanol while they were alongside demonstrated the ease and minimal infrastructure requirements associated with methanol as a marine fuel, as well as its widespread availability.
"Completing the first barge-to-ship methanol bunkering on the U.S .Gulf Coast is a tremendous achievement for the Proman Stena Bulk joint venture," said Anita Gajadhar, executive director, marketing, logistics and shipping, Proman. "The Port of Houston is a major global cargo hub with significant latent methanol storage capacity. These qualities made it a natural testbed for our first U.S. ship-to-ship bunkering."
"Kirby was pleased to be the service provider for this job," said Kirby Marine Group president Christian O'Neil. "It was a natural for us: we have extensive expertise with methanol as a cargo, with conventional bunkering, and with barge-to-ship lightering of all manner of products. We are committed to remaining a leader in energy transportation, regardless of the form that energy takes. We look forward to doing this again and again in Houston and beyond."
Methanol is widely available in the Port of Houston. Thanks to the presence of major petrochemicals hubs and significant storage capacity, more than 275,000 tonnes of methanol is available at the port.
According to Proman, currently available conventional methanol, produced from natural gas, virtually eliminates SOx and particulate matter, cuts NOx by 80%, and reduces tank-to-wake CO2 emissions from the vessel's commercial operations by up to 15% compared to conventional marine fuels. It says that, by using methanol as fuel, the Proman Stena Bulk joint venture vessels are futureproofed against every incoming emissions target, as greater quantities of low-carbon and green methanol will become available for blending and bunkering in the near future.
Production of green methanol from sustainable sources such as sustainable bio-mass or renewable energy is growing and Proman is investing in its own low-carbon and green methanol production capabilities, including a new 100,000 tonne per year methanol facility in development in North America. The project is currently being constructed with a target start of operations in 2025. The facility will produce bio-methanol from non-recyclable forestry residues and municipal solid waste,contributing to the circular economy.