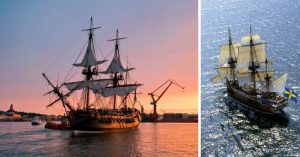 The world's largest ocean-going wooden sailing ship, a replica of an 18th-century Swedish East India Company ship, Götheborg of Sweden, arrived in Valletta, Malta this week. The Götheborg is on its way to Asia, and Malta is the 12th stopover on the Asia Expedition 2022/2023.
The ship, in Valletta from 14th to 18th October, is moored at Valletta Waterfront and open to visitors during the stopover.
The ship will sail in Europe in 2022, stay in Barcelona during the winter, and continue to Asia in March 2023. In September 2023, the ship will reach the expedition's end destination Shanghai.
The Götheborg left Gothenburg on 8th June 2022 and has since visited Helsingborg, Helsinki, Stockholm, Copenhagen, Oslo, London, Bremerhaven, Lisbon, Málaga, Nice and Monaco. The next stop after Valletta is Barcelona, the last stop on this year's expedition.
Source: www.oldsaltblog.com