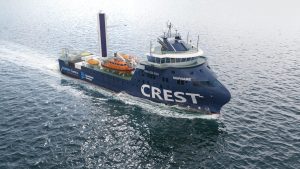 Illustration courtesy Crowley/ESVAGT
Following up on yesterday's news that Crowley and ESVAGT are moving forward with plans to construct a service operations vessel (SOV) for the U.S. wind market, Fincantieri is today reporting today that Fincantieri Bay Shipbuilding (FBS) will construct the vessel in Sturgeon Bay, Wisconsin.
Fincantieri Marine Group announced Wednesday it has reached an agreement on a contract with CREST Wind, a joint venture between Crowley and ESVAGT, to design and build the 288-foot, Jones Act-compliant SOV designed by HAV Design AS of Norway.
SOVs are purpose-built vessels used to transport technicians to service and sustain the operation of wind turbines at sea.
Fincantieri Marine Group will have the team at FBS, along with Crowley's on-site construction management group to complete the building of the vessel to service offshore wind operations in the U.S.
"We are proud to be associated with important 'green' projects like this," offered Marco Galbiati, CEO of Fincantieri Marine Group. "The SOV market is one of the most interesting and important markets for our company."
FBS will build the vessel at its shipyard in Sturgeon Bay, Wisconsin for delivery in 2026.
The vessel will serve the Dominion Energy wind farm off the coast of Virginia under long-term charter to Siemens Gamesa. Dominion Energy plans to construct 176 14.7 MW Siemens Gamesa wind turbines and three offshore substations, generating enough clean, renewable energy to power up to 660,000 homes.
ESVAGT and Crowley entered into a joint venture partnership in 2021 to develop a best-in-class design and deliver its first wind-dedicated U.S-flag SOV. As part of joint venture, known CREST Wind, Denmark-based ESVAGT will support Crowley with design, construction, crew training and operation services.
"The SOV for CREST Wind will bring the latest innovations and performance capabilities to support the emerging clean energy sector in the U.S. — combining ESVAGT European designs and operating practices with Crowley's safety and operational expertise of the premier U.S. vessel operator," said Bob Karl, senior vice president and general manager for Crowley Wind Services.
"The partnership between Fincantieri Bay Shipbuilding and CREST has been developing for some time, and it has been a great pleasure to cooperate with such dedicated and accommodating professionals from FBS, and we look forward to continue the journey together within the green energy transformation in the U.S.," added Kristian O. Jakobsen, Deputy CEO of ESVAGT.
The SOV is the latest in Crowley's push into the offshore wind market. In early 2021, Crowley launched a "New Energy" division, encompassing the emerging offshore wind and LNG sectors in the U.S. Crowley company is also developing offshore wind terminals in California and Massachusetts.
Fincantieri Bay Shipbuilding is currently building several LNG bunkering barges, including for Crowley, in addition to supporting the government work of sister-yard, Fincantieri Marinette Marine, where the U.S. Navy's new Constellation-class frigates are under construction.
"We are excited to partner with CREST in the construction of this SOV," said Craig Perciavalle, Vice President of FBS. "The incredible shipbuilding professionals here at FBS are eager to successfully execute this important strategic program and to continue to solidify our position as a premier shipbuilding supplier in the offshore wind market."
In 2022 the U.S. Department of Transportation's (DOT's) Maritime Administration (MARAD) designated offshore wind vessels as Vessels of National Interest, a designation that is meant to catalyze more offshore wind construction and prioritizes project applications for review and funding through the Title XI Federal Ship Financing Program (Title XI).
Source: gcaptain.com